Alien Troopers:

Alien Troopers are the most common sight on the battlefield. They are much bigger, tougher and faster then human soldiers. Their only weakness against humans is that they sometimes get overconfident when dealing with these weaklings.
However they are no match for a Mechawhale especially since their armor does not protect them from psychic attacks. When whales are around to distract them with their minds the alien troopers can even be defeated by human infantry.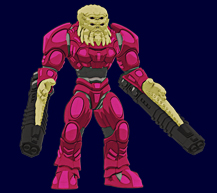 Alien Trooper
Alien Henchmen:

Not much is known about the henchmen race. It seems they once lived on a planet that was attacked by the aliens. However since their flesh proved poisonous to the aliens they did not end up as dinner like a lot of other races before them.
Instead they were cultivated as servants. It is believed they were the first race to be used as slaves and they are still the one race that is the easiest to control. In the alien fleet they do all the work the aliens see beneath them. On the battlefield they serve as cannon fodder.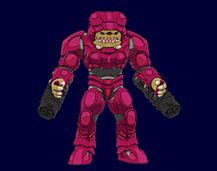 Alien Henchmen
Alien Battle Suit:

The aliens have two set of brains as well as two pairs of eyes and ears. This enables them multitasking at a level that cannot be matched by either whale or human. Their unique physiology enables them to control their battle suits at uncanny speed.
The battle suit is directly controlled by the alien's limbs therefore making it the fastest in the alien arsenal. However since its cockpit is not fully shielded it provides no protection against psychic attacks from the whales. Since those can disturb the thought processes of an alien pilot the suit becomes much less effective when a whale is around.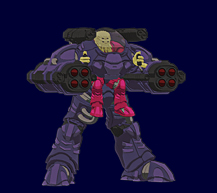 Alien Battle Suit
Alien Elite Suit:

The elite suit was the first answer from the aliens to the whale's psychic attacks. Its cockpit provides protection against the whale's psychic powers.
However since it is no longer controlled directly by the alien's limbs but by conventional controls it is much more difficult to handle then the previous suit. Therefore it has four legs to allow easier control. However it is still not as effective as the previous suit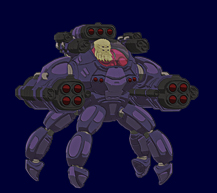 Alien Elite Suit

Alien Emperor Suit:

The emperor suit is a slightly updated version of the elite suit. It is given to pilots who have mastered the elite suit exceptionally well. It has more agile arms and better weapons then the elite suit.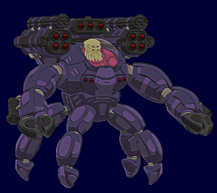 Alien Emperor Suit
Alien Flight Pod:

While all the alien suits have the ability to fly it is the flight pod that is their primary weapon in the sky. The flight pods are known to decent at amazing speed on the battlefield and drop devastating bombs on helpless infantry units.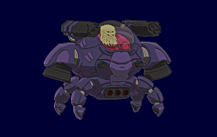 Alien Flight Pod



Graphics, Characters, Story, Animation and Character Designs are ©2011 Hauke Scheer